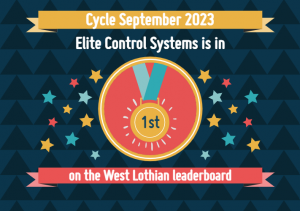 With just a few days remaining in the September Challenge, the Elite Cycle Warriors maintain their narrow lead at the top of the West Lothian Leaderboard, while also securing a highly respectable 8th place in the Engineering and Manufacturing UK Leaderboard.
As the finish line approaches, the question on everyone's mind is whether the warriors can maintain their lead. The answer will be revealed once the results are in next week. We wish all participants the best of luck in these final moments of the competition.
The Love to Ride Challenge offers a great opportunity for colleagues and family members to enjoy cycling together. We extend an open invitation to everyone interested in joining the fun. Simply sign up on the Love to Ride website, hop on your bike, and start tracking your progress.