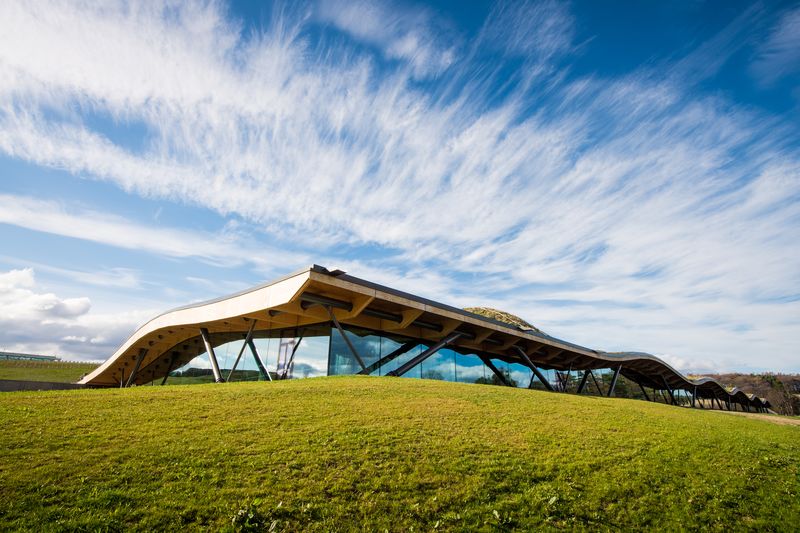 A Control System Engineering Achievement
When Elite Control Systems completed the final commissioning of a turnkey software control system for The Macallan's new distillery, it represented more than successful completion of a job. It was an engineering achievement carried out on behalf of Edrington for The Macallan, its world-renowned single malt whisky.
"It was a real honour to be given the opportunity to provide the critical software control system for a product that many people regard as the Jewel in the Crown in Edrington's portfolio," said Brian Sneddon, General Manager for Elite Control Systems.  "There is no other distillery quite like this one. It's not only an exceptional architectural landmark, it's a completely unique design. Some of the challenges from a software control point of view actually lay in the uniqueness of that very design."
Edrington invested a tremendous amount of thought and planning before finalising its vision: to create a visually striking piece of architecture that would blend seamlessly into the Speyside hills, while providing the production capability to meet customer demand for The Macallan for generations to come.
Three pods are better than one
To make certain that its production capability is both reliable and adaptable, Edrington broke from tradition. Instead of constructing a traditional distillery that features one main production facility, The Macallan distillery features three individual production "pods".  There are many advantages to this design. Having three production pods means that production needn't stop when maintenance schedules demand. The new distillery enables production of The Macallan to increase by one third, if required.
From a controls perspective, the three-pod design means a much more complex system than normal was required. The real challenge, however, was developing a system to manage the production interfaces alongside all the sequencing, interlocking, etc. that is required between each of the pods. These pods operate and interface both individually and collectively with the distillery's single mash house. "This raised the software control aspect of the project to a much higher level, making it a real engineering challenge," said Sneddon.
Once the commissioning checks were completed, and the control system was deemed fully operational, the distillery was nearly ready to begin production. Given the complexity of a distillery with three production pods, the required control system represented a different way of working for both Edrington and Elite. Throughout the construction of the plant and development of the control system, Elite had a dedicated team of engineers working alongside both the main contractor and Edrington's engineers. Elite housed their engineering team in their own cottage minutes from the site, helping facilitate communications and teamwork. For months beforehand, Elite had worked closely with Edrington's engineers to ensure that everyone was fully aware as to how the control system would operate, allowing production to commence as planned.
New distillery up and running
The project progressed and Edrington commenced ready for production in November 2017, running its first spirit in December 2017.  Since then, Edrington has operated all aspects of the plant from the main onsite control room.  Should Edrington require added assistance, Elite can also monitor the status of the new control system from its base in Livingston. "As part of our standard services, we provide 24-hour support.  Although the production process is not managed remotely, should Macallan request assistance, we can login remotely and securely to monitor production and support the automated system," said Sneddon.  "If something untoward were to disrupt operations, we can respond immediately, allowing production to resume without missing a beat."
The Macallan distillery project is an historic achievement, not only in terms of its innovative design and architecture, but for those involved, it was an exciting, rigorous challenge. "To realise The Macallan vision, it was essential that we work with a trusted systems integrator we could rely upon to operate this innovative, yet extremely complicated distillery," said George McKenzie, UK Engineering Manager for Edrington.  "Elite had worked for The Macallan and other Edrington distilleries previously, so we were confident in their ability to design a reliable control system. In the end, Elite lived up to our expectations, and were both responsive and flexible throughout."
For Elite, The Macallan project represents a major milestone. "To have contributed successfully to such an innovative distillery, it's a critical milestone for us in terms of the credibility it lends to us as a respected systems integrator," said Sneddon.
If you would like information on our services, please fill out our contact form and a member of our team will be in contact with you.